MAYA ASTRONOMY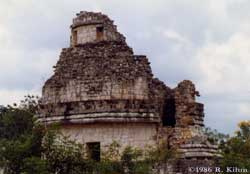 Astra's Maya Astronomy page graphic is derrived from the above image of El Caracol, believed to be an ancient observatory used by the Maya at Chichén Itzá in Yucatán. Windows on the top level were aligned to crucial points in the solar cycle. This image was taken by R. Kihm in 1986.
Astra's Special Feature:
Maya Lunar Series by Robert Kihm
Maya Astronomy Links
Maya / Mesoamerica Archeology Links
Recent Discoveries and Developments
Archeoastronomy links
Newark, Ohio and other American Native pages
Largest earthwork in N. America Newark Earthworks - Hopewell structures survive in Newark, Ohio
Hopewell Lunar Astronomy - J. Knapp - Early Astronomers in Ohio???
Links to the Maya / Mesoamerica
Maya Calendrics
Journals
Links to Meso America for the Traveler
K'inal Winik Cultural Center - Maya Art, Language and Culture
- once an annual event at Cleveland State University
Someday it may come back, who knows?
Other Links and Requests
A Tribute to Linda Schele
Top of Page