MAYA ASTRONOMY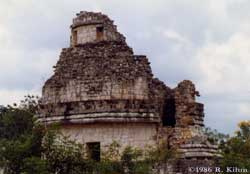 Astra's Maya Astronomy page graphic is derrived from the above image of El Caracol, believed to be an ancient observatory used by the Maya at Chichén Itzá in Yucatán. Windows on the top level were aligned to crucial points in the solar cycle. This image was taken by R. Kihm in 1986.
Astra's Special Feature:
Maya Lunar Series by Robert Kihm
Maya Astronomy Links
The Maya Astronomy Page - hosted and maintained by Michiel Berger - text from a lecture by Astra
Maya Prophecies: - Maya beliefs about in December 2012
The Dresden Codex - from the Ancient Astronomy Home Page
Maya Calendar and Cosmology - John Jenkins
Mesoamerican Archaeoastronomy - from Astronomy Pages of James Q. Jacobs
Maya Astronomy from Crystal Links - some descriptions shamelessly ripped off from The Maya Astronomy Page !
Maya / Mesoamerica Archeology Links
Maya Archaelogy Home Page - - Carlos Pellicer Museum of Anthropology
Mesoamerican Archaeology Web Site
MED (Maya Epigraphic Database Project)
Ancient Mesoamerican Civilizations
Altar Q and Copan - feature article by David Stuart from thePeabody Museum
Maya Exploration Center
FAMSI - Foundation for the Advancement of Mesoamerican Studies, Inc.
Top of Page
Recent Discoveries and Developments
Early Maya Murals at San Bartolo - Extensive Murals & Hieroglyphs ~100 AD
A network of Maya cities found in Guatemala - National Geographic Article
El Mirador - Home to 100,000 in 200 BCE? - From Mostly Maya, links to other info
Archeoastronomy links
History of Astronomy
- Archaeoastronomy, Ancient Astronomy and Ethnoastronomy
Archeoastronomy in Space and Time
- from Technische Universität Berlin
Astronomy and World Heritage Thematic Initiative
- - this UNESCO site is identifying and collecting information on world sites connected with astronomy
Center for Archaeoastronomy
Canon of solar eclipses from 2501 BC to 1000 AD
Great information and calculator for solar eclipses
Archaeoastronomy at Stonehenge
Archeoastronomy ancient astronomy
Good Links!
Newark, Ohio and other American Native pages

Largest earthwork in N. America Newark Earthworks? Hopewell structures survive in Newark, Ohio
Hopewell Lunar Astronomy J. Knapp - Early Astronomers in Ohio???
Journal of Cosmology - - Finding Our Place in the Cosmos: The Role of Astronomy In Ancient Cultures - Juan Antonio Belmonte, Ph.D. - Paper
Robert Bauval - author of "The Orion Mystery" and other Egyptian-based books
Astra's Astrology Link - For Seekers on Other Paths
Links to the Maya / Mesoamerica
Maya Art Books - - from the Foundation for Latin American Anthropological Research (FLAAR)
Mystery of the Maya - Canadian Museum of Civilization
Institute of Maya Studies - Affiliate of Miami Science Museum
Lords of the Earth - - Maya/Aztec/Inca Exchange
Teotihuacan The City of the Gods - from the Archeological Research Institute (ASU)TEO research laboratory
Clive Ruggles - Images from Mesoamerica

Check out Clive Ruggles emeritus professor of archaeoastronomy at the University of Leicester, UK. A great site for those interested in archeoastronomy

Popol Vuh the Maya Creation Myth - from Jaguar Sun
Maya Ruins - Barbara A. McKenzie
The Maya Today - A living culture
Mesoweb - Mesoweb.org is an exploration of Mesoamerican cultures
Maya Vase Database - Justin Kerr's Rollouts
Foundation for the Advancement of Mesoamerican Studies - FAMSI
Top of Page
Maya Calendrics
Yucatan's Maya Calendar (bilungual)
Maya Calendar Tools
The Classic Maya Calendar and Day Numbering System - - by David Mills
Maya Calendar - by Ivan Van Laningham
The Maya Calendar from Calendar Studies - other calendars more than just Julian !

Journals
ARCHAEOASTRONOMY: The Journal of Astronomy in Culture
Archaeoastronomy & Ethnoastronomy News
Archaeology Magazine
Links to Meso America for the Traveler
Mundo Maya Online
Maya Travel Service - - Maya regions of Mexico, Honduras, Guatemala and Belize
Travel in Yucatan
Belize On-line

Top of Page
K'inal Winik Cultural Center - Maya Art, Language and Culture
- once an annual event at Cleveland State University
Someday it may come back, who knows?
Other Links and Requests
Kuxan Suum: Path to the Center of the Universe!
This science fiction book by Dora Musielak about a Maya princess who travels on a light beam to the center of the universe. The story presents astronomical information and thought provoking astronomical questions in aMaya fantasy setting. Illustrations from Hubble Space Telescope complete the volume.
Mayan Ruins
Maya Glyph Jewelry - by Jim Lutz
Mesoamerica Web ring - by James Q. Jacobs
Center for Archaeastronomy's Lost Codex Books (MesoAmerican Archaeology and Archaeoastronomy books)
The Palenque Project
Mesoamerica at the University of Texas
MesoAmerica Ballgame - - Football? Soccer? Try this sport!
The world's first team sport!
A Tribute to Linda Schele
Edgewalker
- a movie about Linda Schele
Access Linda
Schele's Drawings
- from
FAMSI
A Tree for Linda
Linda Schele Precolumbian Endowment
- University of Texas Press
Wikipedia article on Linda Schele
NY Times Obit
Top of Page