The Observer's Page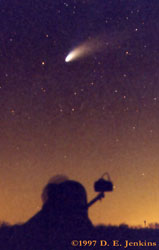 The feature image of the observer's page was taken in 1997, during observations of Comet Hale-Bopp. The dark shadow of a telescope with a camera mounted on it is highlighted in the vanishing twilight. The blue component of the comet's tail is cropped off the image.
---

What's Up?
"What's Up in the Night Sky?" is Astra's monthly almanac! It features a monthly article that was original written by the Star Geezer, Ron Leeseberg. After his last issue in December 2011, Astra has taken up the cause. Find out what to look for this month by reading the latest issue. Find out more about this feature by clicking on the home page, "What's Up? home" Look for more changes to Ron's home page and the almanac at Astras....
The Observer's Page offers advice to newbies, stargazers, amateur astronomers and astronomy clubs. Welcome to the new Observer's Page!
Assistance for Beginners
Stargazing Basics - from Sky and Telescope
Astra's Guide to Commercial Vendors - Just links, no endorsements, find the equipment you need to get started.
Observational Astronomy - from David Haworth
Suzieastro presents Starry Trails - local observational help
Almanacs and Observing Aids
What's Up in the Night Sky? - Astra's montly almanac at the 'Gate
Check Abram's Skywatcher's Diary
Astronomy Center - at the Old Farmer's Almanac (eclipse and weather info available)
NGC/IC Observing List Generator - Professional and Amateurs working together
Sky Insight Online Observing List and Catalog Cross Reference
It's About Time ! - An observing article from By John A. Morris
Astra's Celestial Challenge: Star Associations Group

Online Planetarium Programs and Free Downloads
Stellarium - free open source planetarium download, often used on Astra's Star Gate to generate the charts used to illustrate What's Up, Ron?
Skyview Cafe - a java program to use online or download
Your Sky by John Walker, interactive web-based planetarium
Observing Solar System Objects
Astra's Celestial Challenge:
Naked Eye Group
of Objects
Learn Naked Eye Astronomy with
Aboriginal Star Knowledge
- Native American Indian
International Space Station Visibility
- and other spacecraft on NASA's Sightings Page!
Let the
Woman in the Moon
teach you some lunar features!
Don't forget the King of the Naked Eye Observers
The Star Hustler
Check out
*MeteorObs*
an internet discussion group for metor astronomy and observing.
Dawn's Tips on Observing Jupiter
Astra's Celestial Challenge:
Solar System Group
of Objects
Astra's
3 Faces of Mars Page
NASA's
August 11, 1999
eclipse page toc - and -
Space Science News
posted an interesting article with lots of cool links!
Astra's 1998 Total Eclipse
page - and -
Totally Eclipsed
Astra's personal experience
1994 Annular Eclipse
Astra's article in the A.B. from 1994
1991 Eclipse
-Astras's journey to the 1991 Eclipse from Baja California
Eclipse Home Page
- by Fred Espenak
NASA Predictions for Solar Eclipses
NASA Info on July 11, 2010 eclipse
The Winter Solar Observatory
--check out the
ICStars
home page while you're there!
Total Lunar Eclipse December 20-21, 2010
Lunar Eclipse January 2000
- Images page from ICStars !
April 3, 1996 Lunar Eclipse
- from Cleveland, Ohio
Lunar Eclipse Observer -- Home Page
Inconsistant Moon
- The Moon at Apogee and Perigee by John Walker
Top of Page
Comets! (Astra's Page)
Observing Deep Sky Objects
Notes from
my lecture
on April 20, 1996, at The Peach State Star Gaze
Astra's Celestial Challenge:
Binocular Group
of Objects
The Binocular Messier Catalog
- Donald L. Baker
Holding a Messier Marathon
- advice from Astra
Messier Marathon Sequence
- Use this list for your Marathon Observations
The Binocular Messier Catalog
- Donald L. Baker
Mel Bartel's Messier Observations
SEDS - The Grandaddy of Messier Links
Galaxies - At Last!
Earth Sky Stuff
Astra's Information for Astronomy Clubs
Link to the Astronomical League's Observing Notes
Top of Page