ISS Fun Facts
First Element: Zarya, launched November 20, 1998
The Station completes an orbit around the Earth every 90 minutes
The Station orbits at an altitude of 250 miles above Earth
The last shuttle mission to ISS was STS-135; it returned to Earth on July 21, 2011
The first commercial resupply mission was launched on May 22, 2012 on SpaceX's Falcon-9 with a Cargo Dragon resupply.
The first commercially launched human crew was on May 30, 2020 by SpaceX Falcon-9 on Crew Dragon.
International Space Station's 20th anniversary - the 1st human crew boarded the station on November 2, 2000
SpaceX sends Astronauts to ISS!
SpaceX will launch NASA's Crew-3 mission on a Falcon 9 rocket from Launch Complex 39A at Kennedy Space Center. The Crew Dragon spacecraft will carry NASA astronauts Raja Chari, Tom Marshburn, and Kayla Barron, and European Space Agency astronaut Matthias Maurer to the International Space Station. The flight is scheduled for November 9, 2021.
SpaceX Crew-2 mission launched NASA astronauts Shane Kimbrough and Megan McArthur, Akihiko Hoshide (JAXA), and Thomas Pesquet (ESA) astronauts to the space station on April 23, 2021. Megan McArthur is the first female pilot of the Crew Dragon. Megan is married to NASA astronaut Bob Behnken, who flew to ISS in the same Crew Dragon capsule less than a year ago.
SpaceX launched NASA astronauts Victor Glover, Michael Hopkins, Shannon Walker and Japan Aerospace Exploration Agency astronaut Soichi Noguchi to the ISS on November 14, 2020. (Expedition #64). They were returned safetly to Earth on May 2, 2021.
Spacex Crew-1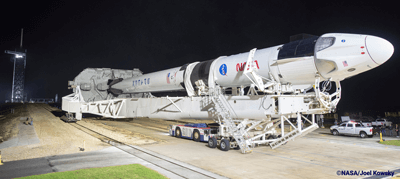 The Crew Dragon spacecraft on the SpaceX Falcon 9 rocket being rolled out to Launch Complex 39A for the Crew-1 mission.
SpaceX Demo-2 successfully launched astronauts to the space station and returned them to Earth!
Falcon 9 launched from Launch Complex 39A at NASA's Kennedy Space Center in Florida on May 30, 2020 at 1:29 am EDT. It was space ship Crew Dragon's second demonstration mission as part of NASA's Commercial Crew Program. NASA astronauts Bob Behnken and Doug Hurleyare the first two NASA astronauts to fly onboard the Crew Dragon spacecraft to the International Space Station. The two astronauts returned safely on Earth on August 2, 2020.
This was the first human spaceflight launched from U.S.A. soil since the Space Shuttle retired in 2011!
Get the full scoop at:
SpaceX - Crew-1 Mission and the Demo-2 mission Crew Demo-2 Mission
Launch America - - from NASA
Live from Space: Inside the SpaceX's Dragon Endeavour Spacecraft - video length 5:13
- - Find out more @ Astra's about SpaceX
International Space Station Pages
Latest Expedition
SpaceX Crew-2 mission launched NASA astronauts Shane Kimbrough and Megan McArthur, Akihiko Hoshide (JAXA), and Thomas Pesquet (ESA) astronaut on to the space station on April 23, 2021, bringing the ISS crew complement up to 11 for a short time. The crew named their SpaceX spacecraft, Endeavour. Crew-1 (named Resilience) with NASA astronauts Michael Hopkins, Victor Glover and Shannon Walker, and JAXA astronaut Soichi Noguchi, returned to Earth on May 2, 2021 at 2:56 a.m. Crew Dragon splashed down by parachute, landing in the Gulf of Mexico near Panama City, FL. This was the first night splashdown from space at since Apollo 8 that returned in December 1968.
On April 9, 2021, the Soyuz spacecraft MS-18 was launched from Baikonur Cosmodrome in Kazakhstan at 3:42 am EDT carrying Roscosmos cosmonauts Oleg Novitskiy, flight commander and Pyotr Dubrov (Roscosmos) and NASA's astronaut Mark Vande Hei to the ISS. Oleg Novitskiy and Pyotr Dubrov made spacewalks to install Roscosmos Nauka module.
Expedition 65 - Find out who is on the international space station now!
Human Spaceflight and Exploration
Life on the International Space Station - from the Astronauts
NASA's Space Station Blog discusses what is happening on the ISS and stores monthly archives.
International Space Station - Inside ISS - posted March 2016
Sunita Williams gives a complete half-hour tour of the International Space Station. This is a must see video! Learn how astronauts work, eat, sleep, exercise, and yes - use the bathroom! The tour takes you through laboratories, lets you visit the cupola, see the heart of ISS in the Russian modules and even takes you into the Soyuz capsule that brought Sunita and Yuri Malenchenko and Akihiko Hoshide back to Earth on November 19, 2012.
Work, Float, Eat, Dream: Life on the International Space Station - Air and Space Magazine
This October 2020 article includes short stories from ISS astronauts, all of them have spent a good deal time on ISS and hold various duration records: Christina Koch, Samantha Cristoforetti, Paolo Nespoli, Andrei Borisenko, Jeff Williams, and longest tour of duty for all humans in space, Gennady Padalka (878 days).
Living on the ISS - ESA astronaut Frank De Winne - Youtube Video (9:20)
Crew Quarters - Mike Fincke's quarters on ISS during Expedition 18 - Youtube Video (1:29)
Expedition 29 - Mike Fossum - Mike's blog begins with the cupola, the astronauts picture window over the Earth.
Letters to Earth - Don Petit - follow Don's mission, his space poetry, and experiments Expedition 30 - 31
Leroy Chiao's Blog - Astronaut Chiao flew on 4 space missions and served as the Commander of Expedition 10
Station Science - Laboratory in Space
International Partners
The international partnership of space agencies working together on the space station includes the space agencies of the United States, Russia, Europe, Japan, and Canada. This very complex project illustrates how possible it is for nations and people to work together, unifying the planet and our ventures into the new frontier.
Roscosmos contributed core space modules: Zarya the first module was later joined by Unity (NASA). The 3rd ISS module was Zvezda. These modules were they launched on Proton rockets. Roscosmos' Rassvet module was launched on the Atlantis Space Shuttle was added to the station in May 2020. Another module, Nauka or Multipurpose Laboratory Module (MLM) module is now expected to be launched in 2021. Roscosmos began launching astronauts and cosmonauts to the space station in October 2000. From August 2011 to May of 2020, the only way to get to the space station was on a Ruscosmos spacecraft. This changed when SpaceX and Crew Dragon began taking astronauts in May 2020.
Russia - SPARC brief by Seonhee Kim
JAXA - Japan Aerospace Exploration Agency
Japan's contribution to the ISS includes the Japanese Experiment Module (JEM), that is called "Kibo" that means hope in Japanese Kibo represents Japan's first human-rated space facility. In addition the - Transfer Vehicle (HTV). The vehicle is called Kounotori means "white stork" that is is thought to be carrying good things.
ESA - European Space Agency
ESA was established in 1975 and headquartered in Paris. There are ten founding members: Belgium, Denmark, France, West Germany, Italy, the Netherlands, Spain, Sweden, Switzerland, and the United Kingdom. Their contributions include Columbus Laboratory Module and resupply missions. Columbus is a research laboratory for experiments in material science, fluid physics and life science.
Canadian Space Agency - Canadarm2
Established in 1990, Canada was the third country to launch a satellite. In 1972 launched the first geostationary communications satellite. Canada's contribution is the Mobile Servicing System. This consists of the control system and Canadarm2. Nine Canadians have visited ISS.
International Space Station Resupply Vessels
Because the ISS has been continually inhabited since November 2, 2000, a constant supply of consumable materials and waste managment is necessary. The ISS is resupplied by various space organizations using spacecraft that operates automously.
Roscosmos Progress spacecraft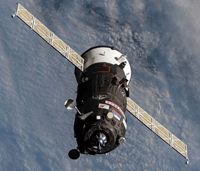 The highly-reliable Progress resupply vehicle is an automated spacecraft that is used to bring supplies and fuel to the International Space Station. The Progress can also raise the station's altitude and orientation of the station with its thrusters. This keeps the station in the appropriate orbit to safely orbit the Earth.
Manufactured by the Russian corporation Energia, the Progress can bring supplies for the astronauts or fuel for use by the ISS. Missions are designated for cargo (supplies) or fuel.
The Progress spacecraft is launched to the space station from the Baikonur Cosmodrome in Kazakhstan on a Soyuz rocket. Progress can stay in orbit for up to six months, and normally undocks shortly before a new one is launched. Progress vehicles have also conducted secondary missions after their cargo resupply flight was complete, including scientific experiments and technical demonstrations in space. they are not re-usable.
- read more at NASA on Progress
ESA Automated Transfer Vehicles (ATV)
Five ATVs were launched to resupply the ISS by the Ariane 5 heavy-lift launch vehicles. ESA's ATVs had 3x the capacity of the Russian Progress cargo spacecraft. Operating from March of 2008 until July 2014. The ATVs at the ISS were also used to boost the station into a higher orbit.
The 5 ATVs were named after famous European figures: Jules Verne, Johannes Kepler, Edoardo Amaldi, Albert Einstein, and Georges Lemaitre.
JAXA Kounotori - H-II Transfer Vehicle
The H-II Transfer Vehicle (HTV) is launched from the Japan's Tanegashima Space Center on an H-IIB launch vehicle. It completed its last resupply mission in May of 2020 and has visited the space station 9 times since 2009. The spacecraft does not dock to the station, instead it is grabbed by the Canadarm2 and it guided to the docking node manually.
- read more at JAXA on- Kuonotori
Cargo Dragon - SpaceX
The first Dragon spacecraft launched Dec. 8, 2010 as COTS Demo Flight-1 on a Falcon 9 rocketand was successfully recovered after re-entry through Earth's atmosphere. (In November of the 2010 Federal Aviation Administration issued a its first re-entry license!) SpaceX's Cargo Dragon is the only spacecraft currently capable of returning to Earth with cargo. Like Kounotori, Cargo Dragon is captured by the Canadarm and attached to the space station, so has no docking capability. As of November 2020, the SpaceX cargo Dragon has visited the ISS 22 times.
Cargo Dragon 2, is an updated version of the original Dragon spacecraft capable of docking directly to the station. The first resupply mission that Cargo Dragon 2 flew was Commercial Resupply Services-21 (CRS-21) that performed an automated docking on December 6, 2020 to Node-2/Harmony's zenith docking port. Dragon2 does not have to be attached to the station by the CanadaArm.
Cygnus spacecraft - Northrop Grumman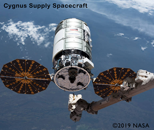 Northrop Grumman has visited the ISS 12 times since its first mission in 2014. Like the other supply vessels, it is captured by the robotic arm and then attached to the ISS. Cygnus is launched on Northrop Grumman's Antares rocket. Successfully launched on February 20, 2021.
Commercial Crew Program
The Commercial Crew Program is a human spaceflight program operated by NASA. Two American aerospace manufacturers, Boeing and SpaceX, are the main corporations involved. This program is allows private enterprises to transport crews to and from the International Space Station (ISS). The two spacecraft that have been developed are SpaceX's Crew Dragon and Boeing's CST-100 Starliner. SpaceX has successfully launched NASA astronauts to the station. Boeing continues its development of the Starliner capsule.
NASA's Commercial Crew Program
Commercial Crew Press Kit PDF - Download for detailed information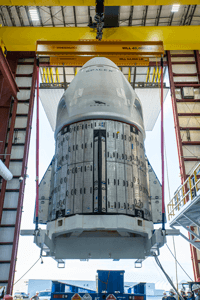 As of the update of this page, Cargo Dragon has been launched 23 times with 22 visits to the ISS for resupply. The Crew Dragons latest launch of astronauts Behnken and Hurley is a major milestone for commercial space flight. The second launch of Crew Dragon blasted off for the ISS on November 14, 2020 carrying NASA astronauts Mike Hopkins, Victor Glover, Shannon Walker, and Japan Aerospace Exploration Agency astronaut Soichi Noguchi to join with the three astronauts already on the ISS in Expedition #64. This brings the total of Astronauts o the space station to 7, the maximum number ever on a full expedition.
The "extra" astronaut is possible because the Crew Dragon spacecraft will remain at the station and provide a return trip for 4 astronauts. Previously, two Soyuz spacecraft could be docked at the ISS and they only carry 3 astronauts. Astronauts are not left on the ISS without an escape vehicle for safety reasons. Another SpaceX "first" for this mission is that the vessel docked to the ISS without assistance from the CanadArm2.
- - Find out more @ Astra's about Crew Dragon
The image of Crew Dragon shows the spacecraft's arrival at Kennedy Space Center's Launch Complex 39A on November 5, 2020.
Starliner (CST)-100 spacecraft will be launched on a Atlas V rocket (United Launch Alliance) from Launch Complex-41 at Cape Canaveral in Florida. Starliner is scheduled to be launched in March 29, 2021. It was designed to accommodate 7 passengers, or crew and cargo for missions to low-Earth orbit. It will dock to the ISS and return about a week later to land in the western United States. This is a test to prove the system is ready to fly with human crew aboard.
Starliner's second uncrewed flight test to the ISS is known as Orbital Flight Test-2 (OFT-2). There is now no target date for this launch but it is not expected to be ready in 2021. Many people are disappointed in the Boeing spacecraft that has seen failures and delays. Hope they pull it off some day.
Astronauts have been selected for NASA's Boeing Crew Flight Test scheduled to be launched later in 2021. NASA astronaut Barry "Butch" Wilmore has been choosen as mission commander. He will be joined by Mike Fincke and Nicole Mann for the inaugural crewed flight of the CST-100 Starliner launching to the ISS later in 2021.
Starliner's first crewed mission is part of a series of demonstration missions required for NASA to certify that Starliner is qualified to carry astronauts to and from the International Space Station.
- - Read more about Boeing and Starliner on Astra's Commercial Space page
Online Videos for ISS
In 2020 there must be hundreds of ISS videos out there. Try NASA's video gallery
Interactive Learning for ISS
ISS Expedition XXX - 30th Crew aboard the International Space Station
Launched Wednesday, December 21, 2011
The image of the International Space Station above was taken from the Space Shuttle on mission STS-113, the appearence of the station from December 2002 until September 2006. The image at the top of this page was taken by the crew of Discovery on STS-133 when it departed the station in March 2011. These and other images of the space station are available at NASA, and can be reached by clicking on this link:

International Space Station Photo Gallery this will take you to the page that contains the NASA image gallery showing the progress of ISS as it was and is being built.

Return to Space Exploration Home <
⋆ ⋆ ⋆
> Continue to ISS Assembly and Commercialization