On this page: SpaceX and Crew Dragon | Inspiration 4 | MZ goes to ISS | Dear Moon | New Shepard | Virgin Galactic Unity
Before the 21st century, space exploration technology was in its early development stage and no private citizen had flown in space, unless we count John Glenn's second trip to space in 1998 when he flew on the Space Shuttle's STS-95 mission. At that time, he was 77 years old and was not an employee of NASA or any other space agency. He became the oldest astronaut to fly.
The next space tourist was launched in 2001, Dennis Tito paid $20 million to fly aboard a Russian Soyuz spacecraft to the International Space Stations. He was the first of seven space tourists flying with Space Adventures supported by Roscosmos and S.P. Korolev Rocket and Space Corporation Energia. Twenty years later, the field of space tourism has bloomed from a tiny bud to an emerging flower.
Calling all citizens! The space frontier is now open!!
The first female citizen to go to space was Wally Funk who flow on Blue Origin's New Sheppard rocket on July 20, 2021. She now holds the record for the oldest person to be launched to space.
- - Read more about Women in Space at Astras
SpaceX and Crew Dragon
Inspiration 4 Mission
The Inspiration 4 citizen mission was launched by SpaceX on Falcon 9 rocket. The astronauts orbited the Earth in a specially modified Crew Dragon. The mission is launched on September 15, 2021 at 8:02 pm EDT.
The the flight's commander of the Inspiration mission was Jared Isaacman, 38 years old. He is the founder of Shift4 Payments that he founded at the age of 16. He is a jet pilot who has flow in over 100 airshows flying with Black Diamond Jet Team. He holds world records for speed and has donated proceeds to the Make-a-Wish Foundation. Isaacman is also providing financial support for the mission and has purchased two seats on the mission.
Hayley Arceneaux, nicknamed Hope, is 29 years old. She works for St. Jude Children's Research Hospital. She is a former patient, having survived bone cancer. Today she works at St. Judes's as a Physician's Assistant treating patients with leukemia and lymphoma. She will be the youngest woman astronaut after she flies as well as the first person with a prosthetic to go to space.
Chris Sembroski, 42, a U.S. Space Camp counselor and teacher using STEM-based education to help students find a career path to following their passions. Sembroski entered a raffle to secure his seat on the mission. Although he did not win, an unnamed friend who did win gave over his chance for personal reasons.
Dr. Sian Proctor, 51, was born in Guam while her father was working at the NASA tracking station. She is a geoscientist professor for over 20 years at South Mountain Community College in Phoenix, AZ, and has had a lifelong passion for space exploration.
The crew orbited the Earth for 3 days, testing out the Crew Dragon's capabilities and, of course, giving SpaceX more work to make this type of mission more enjoyable. The spacecraft was outfitted with a cupola mounted on the nose cone. This window is now the largest window ever launched into space.
- - For more information check out the Inspiration 4 Website - -
If you have Netflix you can watch Countdown: Inspiration 4 Mission and follow the crew from training to launch to landing.
Space Adventures flies MZ to ISS
Yusaku Maezawa (MZ) will visit the International Space Station in December 2021 on a flight arranged by Space Adventures. He will be accompanied by his production assistant, Yozo Hirano, who will help record MZ's experiences. He will be flying with Russian cosmonaut Alexander Misurkin (mission commander) and Yozo Hirano on the Soyuz MS-20 mission launching from Baikonur Cosmodrome.
MZ wants to find out "what life is like in space." MZ will be documenting his daily life on the ISS and sharing it with the world on his YouTube channel. He will be assisted by Yozo, of course. The launch is scheduled for December 8, 2021 when MZ and Yozo will become the 8th and 9th citizens that Space Adventures send to space.
Check out Yusaku Maezawa [MZ] on YouTube. Videos have already been posted describing the process that MZ and his assistant Yozo have experienced training for the space adventure of their lives. MZ's videos typically are posted in Japanese and it it takes a day or so to get a decent English translation.
Russian Space Tourists
Russian film director Klim Shipenko and Russian actress Yulia Peresild launched on October 5, 2021 on Soyuz MS-19 spaceflight. The mission was commanded by cosmonaut Anton Shkaplerov. Shipenko and Peresild filmed a movie on the International Space Station, named "The Challenge" or "Вызов" in Russian (Vyzov). The filmaker and actress spent about 12 days on ISS and returned to Earth aboard Soyuz MS-18 on October 17, 2021.
Dear Moon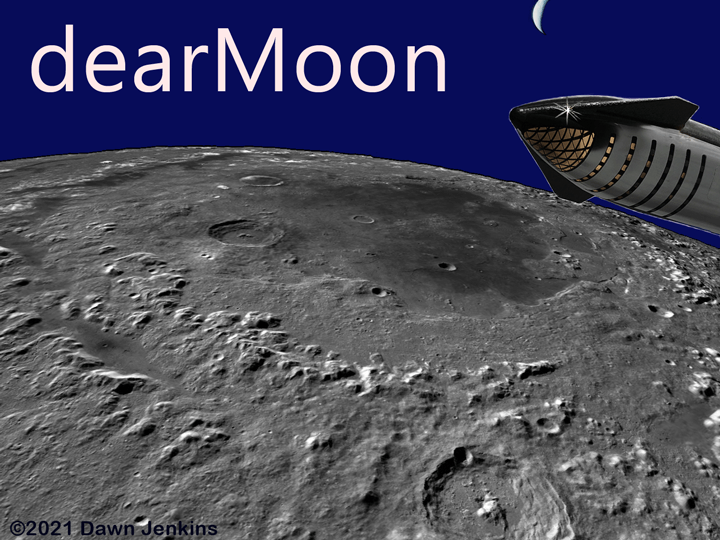 Formally announced on March 3, 2021, dearMoon is the first civilian mission to the Moon. It is currently planned for 2023. The Starship rocket that is being developed by SpaceX will take the first civilian crew to the Moon. The trip will take astronauts around the Moon on a circumlunar trajectory. Japanese entrepreneur Yusaku Maezawa aka MZ purchased all the tickets for this mission. He wants to give as many talented individuals as possible the opportunity to go. He is seeking 8 crew members from around the world.
Check out MZ's YouTube video discussing the excitement as one million entries for dearMoon worldwide were received! Applicants Sneak Peek! This is as real as it gets when highly talented and motivated people discuss their life dreams of space flight and love for arts and sciences.
- - For more information check out Astra's response to Dear Moon
New Sheppard
Blue Origin's sub-orbital hopper
The New Shepard rocket is a reusable suborbital rocket system that can take astronauts and research payloads past the Kármán line, considered to be the boundary of space. The spacecraft allows an 11-minute flight powered by the New Shepard rocket to provide passengers a view from space.
On July 20, the New Sheppard carried 4 passengers to the edge of space. Passengers included Jeff Bezos, founder of Blue Origin, his brother, Mark Bezos, Wally Funk, and Oliver Daemen. Wally Funk was a member of the elite Mercury 13 and 82 years of age. Read Wally Funk's biography on Astra's Women in Space page. Today Wally holds the record of the oldest person to fly. Oliver Daemen was 18, when he flew in the New Sheppard, making him the youngest person to fly. Wally's father paid for his ticket.
- - For more information check out Blue Origin on Astra's Commercial Space Page
William Shatner, known to space fans as Captain Kirk in the Star Trek universe, flew on the Blue Sheppard to touch the edge of space and view the beautiful blue home planet, Earth, on October 13, 2021. This flight made him the oldest person to launch to space at age 90. Other citizens on this flight include Audrey Powers, a Blue Origin vice president, Chris Boshuizen co-founder of Planet (a satellite company), and Glen de Vries, an executive with Dassault Systèmes. Shatner hopes he will never recover from the flight.
Virgin Galactic
Unity 22 mission
On July 11, 2021, Virgin Galactic's fourth crewed mission carried more than just the pilots: Dave Mackay and Michael Masucci who control the vehicle's flight and re-entry. The company's founder Richard Branson boarded the VSS Unity to take a 90-minute flight to the edge of space. This flight also included mission specialists Beth Moses, astronaut trainer; Virgin Galactic's engineer Colin Bennett; and Sirisha Bandla, a vice president of Virgin Galactic.
Unity's next scheduled mission includes 3 Italians: Walter Villadei and Angelo Landolfi from the Italian Air Force; and Pantaleone Carlucci, an engineer from the Italian national research council. Thirteen microgravity science experiments are planned. Scheduled pilotes are Michael Masucci and CJ Sturckow. Beth Moses of Virgin Galactic will be the cabin lead and call out events during flight. The current launch date is unknown because of FAA investigations of the Unity 22 flight.
⋆ ⋆ ⋆
This webpage is ©2021 D. E. Jenkins all rights reserved. Please use the contact page to get permission to use this content or to send comments or corrections. Some images on this page are posted as fair use and are copyrighted by others. See Astra's Copyright Statement for details.
I'm a rocket fan! - - Astra