NEOWISE C/2020 F3 is a naked eye comet, but you will need a dark sky to see it well. Unfortunately because it is summer in the northern hemisphere, many observers will struggle with the long daylight hours. The comet will probably look best in binoculars and I have even seen pictures of it taken from city streets.
For many astronomers, predicting whether or not a comet will be very bright is a tough challenge. In 2020, Comet C/2020 F3 took astronomers by surprise when it brightened up tremendously after its perihelion visit to the Sun. This sleeper was discovered on March 27, 2020 by the NEOWISE space telescope. The comet was a 16-mag object when discovered. It was 2.1 au from the Sun at that time. It brightened quickly and reached 10th magnitude by the end of April. Perihelion was on July 3 and it will be 0.69 au at its closest approach to Earth around July 22.
As of this writing, the comet has grown a second tail. Observers around the world are posting pictures all over the internet. The comet is heading toward the Big Bear, the astronomical constellation known as Ursa Major. By mid-month, it will visible be all night, although it is low on the horizon.
This starchart below was plotted using the date of July 1, 2020 by Tom Ruen, licensed under CC BY-SA 4.0. I downloaded the image to present here at the Gate. The yellow line represents the ecliptic. The partially filled circles on dates after perihelion help to define the direction of the Sun.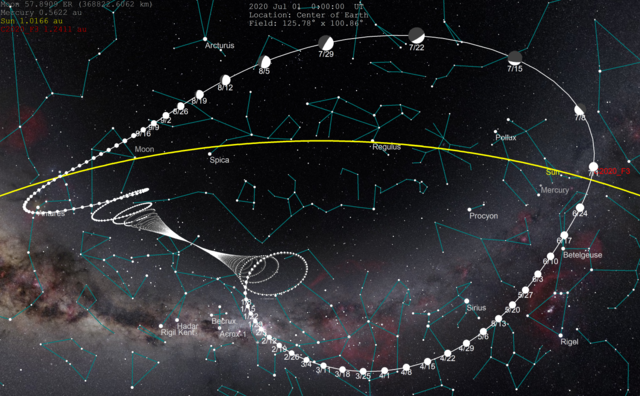 Because it's such a timely topic, I've found some links to some good pages on the comet NEOWISE
How to see Comet NEOWISE - From EarthSky
This article by Eddie Irizarry contains some good images and finder charts for observing the comet.
C/2020 F3 (NEOWISE) - Minor Planet Center
Comet NEOWISE Makes A Bright Appearance At Dawn — Come See! - from Astro Bob
Comet C/2020 F3 (NEOWISE) - from The Sky Live
The Sky Live features many Solar System objects including planets, asteroids, Moon and Sun. The site contains an online planetarium and animations. You can also create your own quick access page for information on astronomical objects.
Or course, the comet (or other solar system objects) information can be loaded into Stellarium through the configuration menu (F2), choose Plug-ins and hit the Configure button. Go to Solar System and click on Import orbital elements in MPC format. Then you can go to the Online Search tab and put in the name of the comet C/2020 F3 . When the comet appears in the window you can check the Add Objects checkbox. Now you can search for the comet in the Find window in the main program. Use the same name that you searched on [ C/2020 F3 ]
Find out more about NEOWISE and other comets on Astra's Comet Page
--See You Under the Stars!
Astra for Astra's Almanac